The mechanisms that can lead to long Covid in a part of the population remain, even today, a mystery, although several routes are favored and closely studied.
In October 2020, Matthieu Lestage, 42, contracted Covid-19 and developed several symptoms of the disease. Two and a half years later, this former soldier was still disabled by significant consequences, which sometimes forced him to use a wheelchair.
You suffer from what has been called "Long Covid", that is, a persistence of symptoms for months, even years, after an infection. "I have coordination problems, memory problems, tremors, I need a permanent rest," the spokesperson for the long-standing Covid patient association After D20 tells BFMTV.com.
Like him, around 20% of people affected by Covid-19 in France, who show signs of recovery, have been suffering for several months or continue to suffer from long Covid, including the majority of women, according to a health survey. public. France. And three years after the first patients of this type, research remains stagnant on the reasons for the persistence of certain symptoms in a part of the population.
Today "to be honest, we are a little groping, everyone is a little groping," confesses Philippe Azouvi, professor of physical medicine and rehabilitation at the Raymond Poincaré hospital and medical advisor to ARS Ile-de-France.
A difficulty: distinguishing long Covid from another disease
The first difficulty encountered by doctors and researchers interested in long Covid comes from the fact that it is not necessarily easy to identify the disease: there is currently no specific test. The World Health Organization defines long Covid as "the continuation or development of new symptoms 3 months after the initial SARS-CoV-2 infection, and these symptoms lasting at least 2 months without any other explanation." , that is, without other diseases. detected.
But the symptoms of Covid-19 are numerous (the WHO lists more than 200) and are not specific. The most frequently identified are headaches (headaches), fatigue, attention or memory problems – combined under the term "cognitive fog" – or even difficulty breathing during exercise. However, these are symptoms that may correspond to other diseases.
For doctors, "the problem is to separate what is really Covid from what is something else", emphasizes Philippe Azouvi.
Because "sometimes patients have symptoms, but it's not much Covid, it's because they have another complication, and it should not be ignored because they are different treatments."
"Many prolonged symptoms can be attributed to Covid," summarizes Brigitte Ranque, a specialist in internal medicine, who works in the long Covid circuit installed at the Hôtel Dieu (Paris). But "if there are very disabling, persistent and unexplained symptoms, we speak of long Covid."
The biggest challenge right now, and the one researchers are working on, is understanding how the SARS-CoV-2 virus can cause such damage in infected people.
The trace of a "somatic disorder"
Brigitte Ranque, like other researchers, is working on the possibility of a "functional somatic disorder" in patients with long Covid, a disorder already known before the pandemic. It causes in the patient "the presence of somatic symptoms without organic explanation, without objective injury to the organ designated by the symptoms," explained the High Health Authority at the beginning of 2021.
"These are repeated, long-lasting or disabling symptoms, which lead to a request for care whose greatest impact contrasts with the absence of clinical or paraclinical anomaly that can fully explain them."
"These are people who will experience symptoms that do not fit the injuries observed," explains Brigitte Ranque. "There is an alteration in brain functioning," and the infection would be the triggering factor for this disorder.
The patient then becomes hypersensitive to all bodily signals, which are considered very threatening even if the organs are functioning well. Additionally, the brain's alertness can cause physical symptoms by activating the so-called "autonomic" nervous system.
This line of study has been criticized, in particular by patient associations, who see it as a denial of their illness, an accusation of simulation, while some of them faced skepticism from doctors at the beginning of the pandemic.
But Brigitte Ranque assures that "it is not about discrediting patients and saying that they have nothing", their symptoms "are very real" and it is not about declaring that they are pretending to be sick.
Virus persistence or inflammation?
Other works focus on an inflammatory possibility, for example "the possibility that the virus has invaded the brain and spreads inflammation," Guilherme Dias de Melo, a researcher at the Pasteur Institute, explains to BFMTV.com. "We are looking to see if the virus is still there and if it has caused damage" in certain areas, which could explain certain symptoms, he summarizes.
The persistence of the SARS-CoV-2 coronavirus in certain parts of patients' bodies, even if they have negative Covid tests, is also being closely studied.
"There could be a correlation between the time the virus remains in the body and the risk of long Covid," we read in a study published on May 10 in The lancet.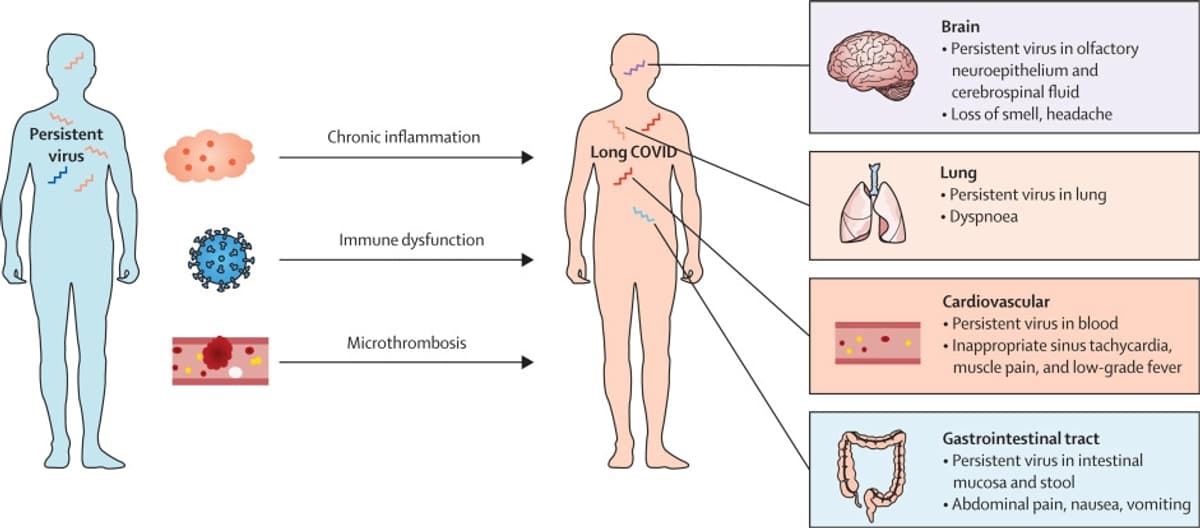 Research strongly suggests that long Covid patients do not completely clear the SARS-CoV-2 virus. "Instead, the virus can persist in tissues, where it continues to challenge the immune system. This could have a wide range of downstream consequences," also writes The Long Covid Research Initiative, which brings together scientists and patients in research into this disease. .
"Microhemorrhages"?
In an article published in September 2022, several researchers write that currently "three main mechanisms are the subject of intense investigations: the persistence of the SARS-CoV-2 coronavirus in the body of patients; the maintenance of an inflammatory state after infection at the level of tissues, particularly vessels and brain tissue", but also "the formation of microclots and/or microbleeds".
"Inflammatory microthromboses or microhemorrhages could occur" in certain organs, which could "cause poor oxygenation of the tissues and explain sudden episodes of discomfort, pain (muscle, cardiac) or mental confusion," they explain.
"There are many possibilities studied," says Guilherme Dias de Melo, who emphasizes that the cause of long Covid "seems to be multifactorial."
Therefore, the phenomena studied above do not necessarily cancel each other out and could even feed each other. The idea is that there would not be a single mechanism that leads to prolonged Covid, "it may be a combination of different factors, it is probably multifactorial," adds Philippe Azouvi.
"There is no proven curative treatment"
Therefore, at the moment it is difficult to provide a response to patients, some of whom remain medically ambulatory. Although the law of January 24, 2022 provided for a platform for monitoring long-term Covid cases, the system has not yet been launched. "It should arrive before the end of the year," said doctor and Renaissance MP Stéphanie Rist. "Today we only treat the symptoms," declares Mathieu Lestage, who explains that his life has deteriorated significantly. If some have managed to recover, or at least see an improvement in their condition as the months go by, this is not the case.
"There is no proven curative treatment," says Philippe Azouvi. "Some suggest using anti-inflammatories under the hypothesis that it is an inflammatory process. Some colleagues say it works, but this has never been proven."
"Otherwise, it's re-education, that's what we do in SSR (follow-up care and rehabilitation) centers, it's physical retraining, cognitive retraining, but there's not a lot of solid evidence today of its effectiveness."
Philippe Azouvi emphasizes that three years after the start of the pandemic, long-term Covid patients continue to present themselves at the centers: in 2022, 800 applications were submitted in Île-de-France. "It is not negligible," says the doctor, adding that "those we see in rehabilitation are just the small tip of the iceberg."
And to treat these patients and find a treatment, "we must first understand the mechanisms" of this disease, says Guilherme Dias de Melo.
Author: Salome Vicente
Source: BFM TV